Elephants in the Nile at Murchison Falls National Park; photo by Marjan Novak
Kidepo National Park, Murchison Falls National Park, Kibale National Park, Queen Elizabeth National Park and gorillas
Five national parks including seldom visited but spectacular Kidepo Valley National Park, our close relatives mountain gorillas and chimpanzees, countless pretty lakes, colourful cultures and incredible history – this 15-day tour has it all.
Day 1: Entebbe – Kampala – Mabira – Njeru
We will leave Entebbe at 8am, to reach Kampala when the Buganda parliament opens, a great place to learn about Uganda's royal and cultural background. The second city stop will be the famous university, Makerere, and its extensive campus. Our lunch will be a rich picnic snack near the Bahai Temple, the only one in Africa, located on one of the city's many green hills.
After lunch we will head east, towards Mabira Forest. An impressive ecolodge awaits deep in the forest, our place for a drink on the way. By evening we will be on the Nile – but not where most people go! The town of Njeru lies on the other bank of the river and actually offers a nicer Source of the Nile viewpoint. A beautiful resort called Kingfisher is located nearby, our place for the night.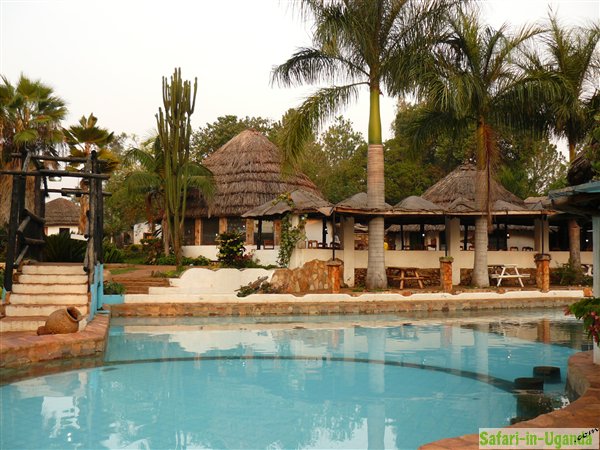 ---
We will cross the river and have a walk on the streets of Jinja, a town that is historically Indian but now most popular among the Bazungu (white people) who like to settle here and enjoy the town's slower pace.
Mbale, our lunch stop, is also an originally Indian settlement, so a good Asian restaurant will be our most likely choice. On the way to Soroti, perhaps the most pleasant town in Uganda, we will admire Nyero rock paintings that hunter gatherers
left thousands of years ago. The experience of lying on your back in a small cave while looking at a fabulous sun symbol could be profound.
Day 3: Soroti – Kotido – Kidepo

Rwot; photo by Skyway
We will depart from your Soroti hotel at dawn, planning to take full advantage of the day. In Abim District we will encounter Rwot, an imposing mountain that reportedly nobody has ever climbed. Why? Because of the magic that surrounds it! Elders from the area will tell us more about it.
And then, Karamoja… You will see young men in their tribal uniforms, ladies in a selected skirt style, perhaps even men with incredible hats, and know you have reached a different Uganda. Tradition still rules here.
[easingslider id="1097″] Kaabong; photo by Marjan Novak
A simple meal in Kotido will prop us up for the last leg through Kaabong to Kidepo. The landscapes will be … out of this world.
We will reach Kidepo Valley National Park soon enough to get ourselves comfortable in the Uganda Wildlife Authority cottages at Apoka and then enjoy our first game drive in the gorgeous evening sun.
Kidepo; photo by Marjan Novak
Kidepo is a river – a sand river most of the year – and over Kidepo we will travel this morning to look for ostriches, secretary birds and other exotic specimens. The official destination is a hot spring, but a couple of steps into Sudan won't hurt at all.
After a prolonged lunch break at Apoka we will embark on an evening game walk, a stroll among zebras, buffalo and more.
How better to wind up our visit to Kidepo than with a proper morning game drive, on the lookout for lions, giraffes and the like? In the grass between the impressive mountain ranges defining the Narus valley a lot of wildlife is hiding. Even the cheetah.
In the afternoon we will continue towards Gulu, the biggest town centre of the north of Uganda and our night stop. In the past, Gulu was the refuge town for children on the run from Joseph Kony's rebels – you will learn all that matters about those unfortunate years.
Day 6: Gulu – Murchison Falls National Park
Murchison Falls National Park has a number of gates and we will take the northern one, Wankwar. This direction will provide us with an afternoon game drive on the way to the Paraa ferry. You will then be able to enjoy a relaxed evening at an exclusive lodge.
Day 7: Murchison Falls National Park
The morning in the park is always booked for a safari near the Nile delta. Instead of the valleys of Kidepo, you are now driving on an impressive green plateau teeming with wildlife. Whatever you have missed in the previous park is very likely to be found here.
The afternoon boat trip towards the falls can add crocodiles, plentiful birds, a bathing elephant and countless hippos to the morning experience. The Nile truly is a lifeline.
Day 8: Murchison Falls National Park – Masindi – Fort Portal
We will get up early enough to see the day break at the top of Murchison Falls. The river's immense power is concentrated on a couple of square metres here, rainbows form above its dramatic push through the rock.
Masindi Hotel, the oldest hotel in the country, will be our location for a quick brunch before we continue our long ride to Fort Portal in the west of the country. Located under the famous Mountains of the Moon, the Rwenzoris, Fort Portal is surrounded by tea plantations and crater lakes.
Day 9: Fort Portal – Kibale National Park – Queen Elizabeth National Park

Kibale chimp; photo by Marjan Novak
Kibale National Park near Fort Portal is the country's most known location for chimp tracking. Chimpanzees reside in a rain forest that easily hides them from a visitor's eyes, however, with a little luck close encounters can and do happen.
Our final destination this day is another national park, Queen Elizabeth, which is on the other side of Africa's environmental extremes: a savannah around Kazinga Channel that connects Lakes George and Edward. We will take an evening boat trip on this channel, famous for plentiful bird life but full of big animals too.

Kazinga channel; photo by Marjan Novak
Day 10: Queen Elizabeth National Park – Lake Bunyonyi
Your last game drive is taking place this morning… Have you already ticked all the animals you fancied seeing? Believe us, the sight of the grass in the morning sun or the salt lake stopover could still make it worth it.
Kitagata Hot Springs used to be a royal site and it remains the most widely known healing place in the country, people come here from far and stay for days. You will be free to try out the temperatures at three different sources, just don't flash your camera too much among the (half) naked bathers in search of better health.
Lake Bunyonyi; photo by Edirisa Canoe Trekking
By the evening we will reach Lake Bunyonyi, perhaps the most beautiful lake in the world, with 29 islands dotting it. Bunyonyi has no hippos and no bilharzia, so a swim is highly recommended.
Lake Bunyonyi canoeing; photo by Edirisa Canoe Trekking
A full-day canoe trek on L. Bunyonyi will introduce you to the major islands and their rich history, but also to a traditional healer and a craftmaker who live on a peninsula with most complete views of the 25-kilometres long lake. There will be some little energetic hiking but also great time spent in traditional dugout canoes. See a more complete description of canoe trekking here.
Day 12: Lake Bunyonyi – gorilla national parks
Mountain gorillas can be visited in two national parks and at five different locations. No matter where we get your gorilla permits for, we will also enjoy a couple of hours with Batwa "Pygmies" and one of their three well-prepared forest walks.
Your big day. You have been granted an audience with the majestic residents of the Central African rain forests, the majestic mountain gorillas.
Day 14: Gorilla parks – Lake Nabugabo
Time to turn back to where we started… Still, we will enjoy a pretty stopover on the way: a well hidden wonder in central Uganda, a part of Lake Victoria that separated about 5000 years ago: Lake Nabugabo. Nabugabo has sand beaches, is safe for swimming and has been declared a protected Ramsar wetland.
The way to Nabugabo will present us with some of the most beautiful landscapes Uganda can offer: we will leave the terraced mountains of the southwest and descend into the cattle keepers' plains and little hills, to eventually reach a tropical lakeshore.
Day 15: Lake Nabugabo – equator – Entebbe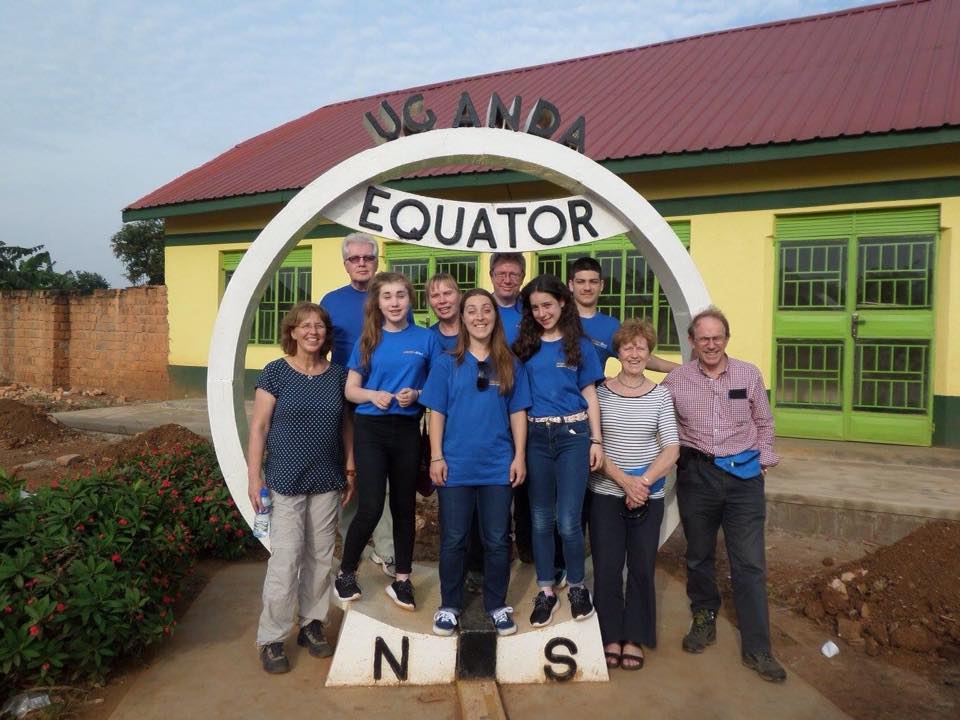 We will not be crossing the equator for the first time this day, still, this is the more interesting of the two points where the invisible line crosses the road. Having a photo taken inside of the equator circles is pretty customary and seeing the equator water experiment perhaps a little mind-blowing. Did you know that water drains differently there? Good coffee on the equator will be an extra bonus.
We will check out Mpigi Royal Drum Makers who have been making ceremonial instruments for generations and then reach our tour starting point, Entebbe. A picnic in the lush botanical gardens will complete our 15-day in the Pearl of Africa.
Botanical gardens; photo by Bostjan Sivka
---
Customize your Great Uganda Safari:
– mountain gorillas and chimpanzees are pricey activities that can be skipped on request
– in Kampala you can add a visit to the Gadaffi mosque, an impressive structure with great views, and the national museum (some extra hours, possible late arrival to Njeru)
– Jinja is most known for adventure tourism, especially whitewater rafting on the Nile (additional day)
– close to Mbale lies Sipi Falls, a romantic set of falls on the slopes of Mt Elgon (additional day)
– south of Masindi a rhino sanctuary, Ziwa, is located (some extra hours, late arrival to Fort Portal)
– the Ishasha sector of Queen Elizabeth National Park is the home of tree-climbing lions (additional day or two)
– at Lake Bunyonyi you can spend a night with the local community on one of the few islands unspoiled by tourism, Tom's Homestay, or spend more days doing canoe trekking
– in Kabale Town close to Bunyonyi there is the Bakiga museum, a complete recreation of a traditional homestead (30-minute guided tour)
The price (including transport, guiding and entry fees): Contact us at:
info@skywayhotel.co.ug or mugeddavid@gmail.com
+256 700 984 458
+256 703 000 328
with your preferred options.
For more information please write to info@skywayhotel.co.ug